Stellenbosch Mountain Bike Guide
Mont Angelis* Mountain Bike Guide for Stellenbosch and Surrounds
Posted on Sun May 19, 2019.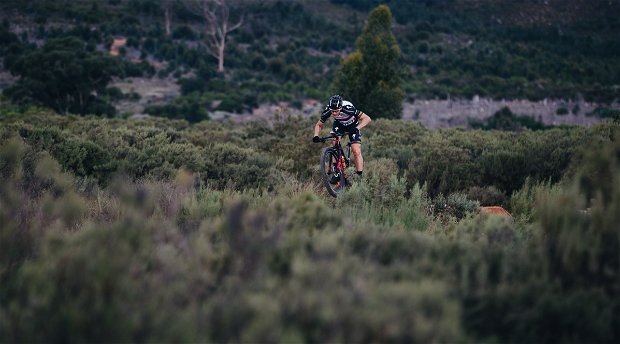 Stellenbosch is a mountain bike Mekka. There are lots of single trails, but it is not that easy to find your way around. This guide is meant to give an overview of the most interesting trails. Some are easy to find and well-marked, but if you are new to the area, you'd be better off booking a professional guide or joining one of the many cycling groups. You'll find a list of the major Stellenbosch mountain bike races in the second section of this article.
Most of the time you will be riding on private land. Therefore, you are always expected to follow the rules of the trail. Stick to the trails. Don't trespass. The trails are being built and maintained by private initiatives who at the same time try to keep the landowners happy. Most will require a permit. If you don't buy one, you'll risk losing karma points or being banned as a rogue rider.
The good news is that you can ride the trails all-year, as long as you adapt to the conditions.
G-Spot, Coetzenburg, Eden, Mont Marie
Photo credit Etienne Schoemann
These are the perfect trails to begin with. For starters, they are the closest to Stellenbosch and to Mont Angelis*, plus you don't have to buy a permit. However, you may make a contribution to the Stellenbosch Trail Fund to support this incredible cause. G-Spot is legendary, both ways, up and down. Ride it at least twice. Avoid the jumps.
NOTE THAT MONT MARIE TRAILS ARE CURRENTLY CLOSED DUE TO ROGUE RIDING!
Start: Anywhere in Stellenbosch
Permit: Donation via the website recommended
Level: Easy if you avoid the jumps
Distance: Up to 25km
Climbing: Up to 700m
Option: check out the cross-country world cup trail. Many sections are very technical.
Website for donations and maps: https://www.stellenboschtrailfund.co.za/
Jonkershoek
The ultimate playground for mountain bike enthusiasts! The reserve is 10km outside of Stellenbosch, the perfect distance to warm up. The valley is beautiful and wild and it can be rocky at times. Climbing is mostly on forestry tracks, down, there are countless options. Choose according to your level of expertise and enjoy. Once down, head over to the opposite side of the valley and go up again; continue until you are tired! It will take a while before you know all the trails.
Start: Anywhere in Stellenbosch or at the gate of the reserve. Pin
Permit: At the gate of the reserve, although beware that cash is not accepted at Jonkershoek gate. You can pay via credit card, Zapper, Snapscan or via the MyMTO App.
Level: Easy, intermediate, difficult
Distance: Up to 40km
Climbing: Up to 1300m
Map: https://www.irideafrica.com/portfolio/jonkershoek-mtb-map/
Option: Add Coetzenburg and Eden Trails.
Website: https://www.facebook.com/mtotrailsjonkershoek/
Botmanskop, Banhoek Conservancy
Incredible views, well-built trails and the incredible "Skyfall" make this route a must. The long climb up Botmakskop on single trails poses a challenging start. After this fun start, there is a lot of adrenaline releasing flow amidst vineyards and proteas down all the way to Banhoek. The following ride up the river is beautiful, but the terrain is taxing, alternating between sand, mud and steep ascents. There is more fun on the other side of the river but some of the way back will be on the busy R44. There have been problems with vagrants. Better ride in a group.
Start: Anywhere in Stellenbosch
Permit: Pay with Zapper, via the website or QR codes on boards.
Level: Intermediate
Distance: Up to 50km
Climbing: Up to 800m
Map: http://banhoekconservancy.org/facilities
Option: Add Boschendal Trails
Website: http://banhoekconservancy.org/
Bottelary Conservancy
Vineyards and fynbos are what you will get in this area, and lots of single trails in the first half. The trails are well built and a lot of fun to ride. Stop for the incredible views of Table Bay and Cape Town, as well as Simonsberg, Stellenbosch Berg and Helderberg. The Fish Eagle section towards the end of the route is amazing. Finish the ride with coffee and cake at 5* Asara Hotel. They are used to cyclists and the pastries are world-class.
Start: Anywhere in Stellenbosch or at Asara.
Permit: Asara Wine Estate R60 (other points of sale listed on the website)
Level: Easy to intermediate
Distance: 40km
Climbing: 1000m
Option: The Blue route is just as nice, but shorter
Website and map: https://bottelaryconservancy.co.za/
Helderberg Farm
Photo credit Etienne Schoemann
Put your baggies on! This is the place for downhill addicts, after an ascent of 600m you have a black or red option to suit your style. On some days, you can board a shuttle all the way up. The trails have been built by farm owner Jan Van Schalkwyk and pro rider Andrew Neethling. Expect the best. If needed, you can fix your bike at the Neethling brothers' Hangar bike shop next to the R44.
Start: Hangar (pin) or Helderberg Farm Cafe
Permit: Hangar or Helderberg Farm R60. There is a self-service option.
Level: Intermediate, difficult
Climbing: 600m
Distance: 12km
Option: Add up to 100 km of Wannabee trails with a separate permit that you can purchase at Somerbosch Farm. Be careful when you cross the R44 https://wannabees.co.za/
Website and maps: http://helderbergtrails.com/
Simonsberg Trails
Many trails have been added in the last few years running over the wine farms, fynbos and forests. Close to 100% single trails. Just follow the signs. Both Muratie and Delheim have restaurants.
Start: Muratie or Delheim wine farms near the R44
Permit: R60 Pay with Zapper or https://www.dirtpass.co.za/product/permits
Level: Easy, intermediate
Climbing: Up to 1000m
Distance: Up to 35km
Website and maps: https://www.dirtopia.co.za/index.php/simonsberg-trails
Wannabees Trails
Wannabees is a bike club based in Somerset West. It builds and maintains the biggest network of trails which extends well into Stellenbosch. The trails are mostly on the lower, flatter side of the R44, but there are some flowing trails on the mountainside, namely on Stellenzicht and Dornier. Crossing the R44 can be dangerous. Avoid rush hours.
Permit and start: Somerbosch or Lord Charles Hotel
Level: Mostly easy
Climbing: Up to 400m
Distance: Up to 100km
Website and maps: https://wannabees.co.za/
STELLENBOSCH MOUNTAIN BIKE RACES
A good way to get to know the area is by taking part in one of the mountain bike races that are organised in Stellenbosch.
February: Fairtree Simonsberg Contour http://www.fairtreecontour.co.za/
March: Cycletour Mountain Bike Challenge https://www.capetowncycletour.com/lifecycle-week/mtb-challenge/
March: Cape Epic: https://www.cape-epic.com/
July: Stellenbosch Mountain Bike Challenge http://www.stellenboschmtbchallenge.co.za/
September: Fedhealth Mountain Bike Challenge: https://www.stillwatersports.com/event/fedhealth-mtb-challenge/
October: Wines 2 Whales https://wines2whales.com/
November: Origin of Trails https://www.stillwatersports.com/event/origin-of-trails/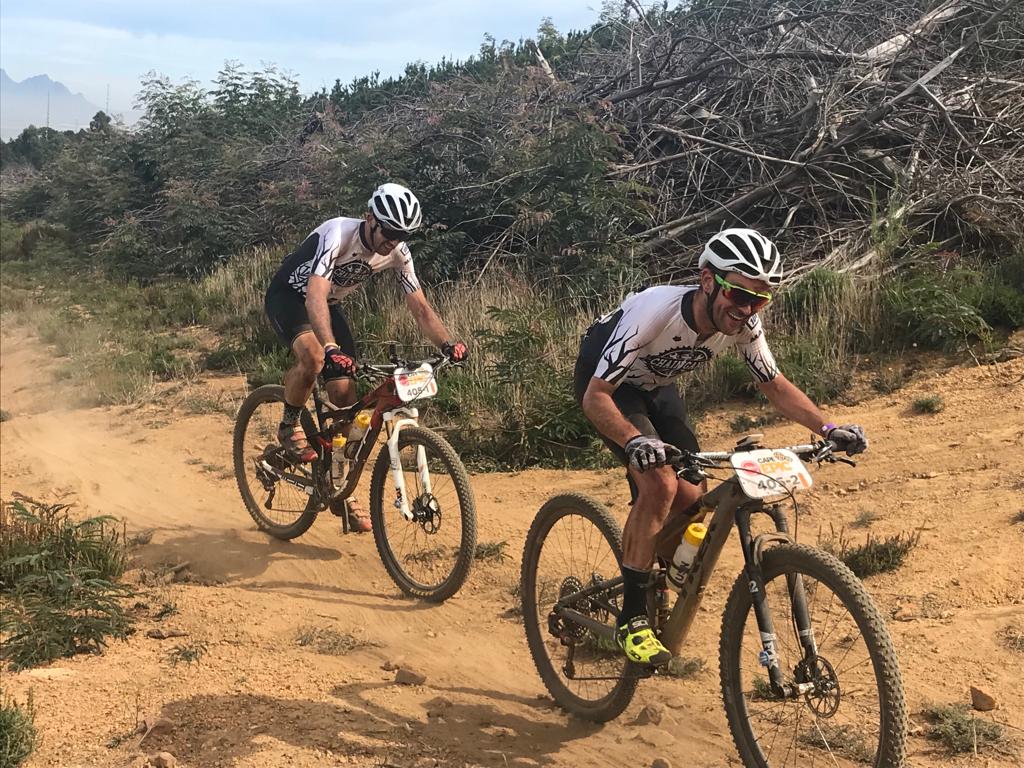 BIKE SHOPS IN AND AROUND STELLENBOSCH
BMT Bike Marathon Triathlon. Bike sales, service and tours http://bmtsa.co.za/
Flandria. Bike Sales, service http://www.flandria.co.za/
Specialized Flagship Store. Bike sales, accessories, service, cafe https://www.specialized-stellenbosch.com/
The Hangar Bike Company. Bike sales, service, rentals http://thehangerbikeco.co.za/
Ride-In. Rentals, service, tours, cafe https://ridein.co.za/
Picture: Bottelary trails with views of Table Mountain
RULES OF THE TRAIL
Please follow the International Mountain Biking Association's "Rules of the Trail" which promote responsible, courteous conduct on shared-use trails: 

1. Ride Open Trails Only: Respect trail/road closures - ask a land manager if you're uncertain about status and remember bikes aren't permitted on state or federal Wilderness. Don't trespass on private land - obtain permits/authorization first. 

2. Leave No Trace: Wet, muddy trails are vulnerable to damage, so consider other options. Stay on existing trails, avoid cutting switchbacks and pack out at least as much as you pack in. 

3. Control Your Bicycle: Inattention for even a moment could put yourself and others at risk. Obey bicycle speed regulations/recommendations, and ride within your limits. 

4. Yield to Others: Let trail users know you're coming - a friendly greeting or ring of a bell work well – and anticipate as you round corners. In general, bicyclists yield to other trail users, and downhill bicyclists yield to uphill bicyclists. 

5. Never Scare Animals: Give animals enough room and time to adjust. When passing horses, use special care and follow directions from the horseback riders. 

6. Plan Ahead: Know your equipment, your ability and the area. Strive to be self-sufficient: keep equipment in good repair and carry supplies for changes in conditions. Always wear a helmet and appropriate safety gear.
*Mont Angelis Retreat offers a selection of well-designed and spacious self-catering cottages on a wine farm in Upper Blaauwklippen Valley, 10 km away from downtown Stellenbosch. It is an oasis of well-being for leisure and business travellers, as well as athletes, academics and wine lovers. Mont Angelis has been selected as one of the 15 best places to stay in Stellenbosch by The Inside Guide. www.montangelis.co.za